Chapter 1: Death Stalks the U.S. Border | Chapter 2: Economic Obstacles in Mexico | Chapter 3: Earning a Living in Mexico
The young people in the town of Emiliano Zapata are lured north by relatively high-paying jobs in the United States. Meanwhile, the town's leaders are working hard to provide opportunities at home.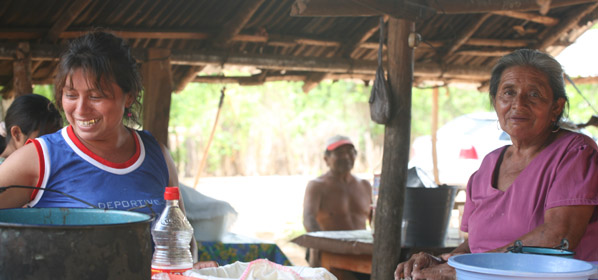 By David Kempa
EMILIANO ZAPATA, Campeche, Mexico — In Felipe Pech's town, kitchens are open-air huts with firewood stoves.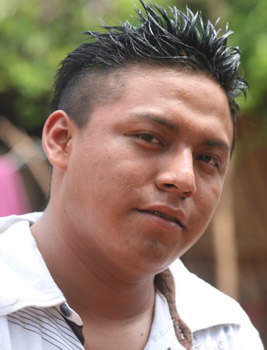 Living rooms are crisscrossed with hammocks instead of couches. Few people own cars. Fathers who want land for their sons simply walk to the edge of town and begin clearing 40-by-40-meter plots. The three stores in town operate out of the fronts of homes. Plumbing is a luxury.
But Pech drives a white 2003 Ford F-150. His sturdy, cement home has five rooms: two bedrooms (one furnished with a full-sized bed); a fully functional bathroom; a living room equipped with a TV and sound system and furnished with a couch; and a kitchen that will one day serve as the town's fourth convenience store. He is building a second house in a city 30 miles away.
And Pech is 20 years old.
He lives in Emiliano Zapata, a town of about 500 located in the Tenabo municipality of southern Mexico's state of Campeche.
It is a dusty village where children chase chickens through the streets, women sweep yards as if they were tile and, like clockwork, men meet at dusk in the southeast corner of the square to gossip and trade farming advice with one another in Mayan. And absolutely everyone in Emiliano Zapata knows that to get ahead in life you or someone you love must migrate to the United States to find work.
Four years ago, that reality began to sink in for Pech.
"As I told my father, the land wasn't producing anything," he said.
So began his journey north.
Pech took a taxi to the city of Merida, where he took an airplane to the northern city of Mexicali via Mexico City. From there, he rode a bus to Sonoyta, where he bought a bicycle, then ran 12 miles in one night through the southwestern Arizona desert and commenced biking by moonlight to Casa Grande, Ariz.
From there, Pech caught a ride to Las Vegas, where he spent four years working at an IHOP, rising from dishwasher to cook and sending a portion of his earnings to his family back home.
Pech said he didn't mind being a 16-year-old alone in a foreign country.
"You feel good because you know your family isn't failing like before," he said.
The money that Pech and millions of others like him sent to Mexico amounted to $25 billion in 2008, according to a Banco de Mexico report.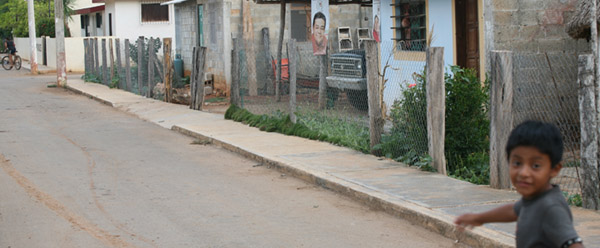 In that same year, 54 percent of foreign-born Hispanics and 17 percent of U.S.-born Hispanics in the United States sent remittances to Mexico, a study done by the Pew Hispanic Center found.
* * *
"He wanted to go, so we had to support him. We had no choice."
Argelia Chan Pech did not like the idea of her teenage son crossing a desert in which hundreds of men and women perish each year. She had heard the stories of the polleros or guides who take money to lead people across the line, the drug cartels that control routes into the States, the U.S. Border Patrol and American vigilante groups that patrol the border with pickup trucks and guns.

"It's not fair that our children leave to cross the border when there's land here to work on," she said.
She recalls a time, not so long ago, when things were easier in Mexico.
"We had an abundance of tomatoes, chiles –- anything you could plant could grow here," she said. "But the time arrived when you'd plant the seeds, and they wouldn't grow due to disease."
No one is sure precisely what brought the disease to the crops. Some, like farmer Nehemias Tuyub Uicab, speculate that the little pink worms infesting crops may have hitched rides to Mexico on heavy machinery once used in the United States.
Beyond the pests, Emiliano Zapata residents face problems common among small, local farmers in developing countries -– problems of scale. The entire town has about 5,800 hectares to split among 117 growers, Tuyub said. With such a humble share of crops, simple changes in weather can dictate what -– or if -– people will eat on any given day.
"I've thought about leaving," Tuyub said. "At times, at times. When there's no rain, it's hard.
"It makes me think about leaving – selling my things and moving to the city."
The people of Emiliano Zapata have had problems not only producing vegetables, they've found it next to impossible to transport and find markets for tons of healthy, ripe fruit.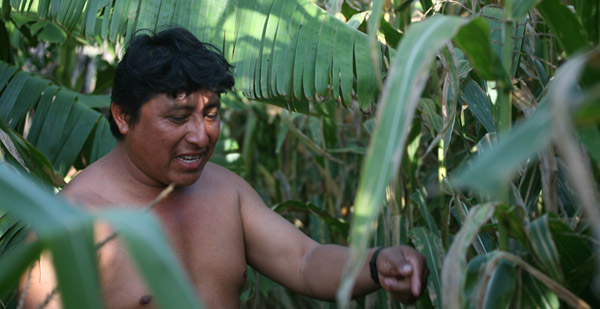 Years ago, the grandparents of those now working the town's fields planted lemon, lime, orange, mango and papaya seedlings in hopes that they would grow to produce mountains of fruit that could help pull the their children and grandchildren out of poverty. Today's farmers find themselves the owners of impressive, mature trees teeming with fruit, but no way to make much money from them.
* * *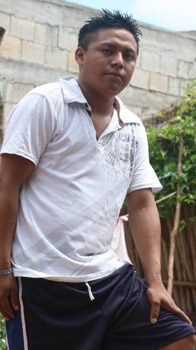 Felipe Pech left Las Vegas and returned to Campeche on Feb. 24 of this year because, he said, the slumping American economy made it too hard for him to earn enough to maintain a comfortable standard of living. He is not the only one to return home.
According to Pew analyses of population surveys, the tide of Mexicans leaving their country has been in decline. While more than a million Mexicans emigrated from their homeland in 2006, only 814,000 left the following year and 636,000 in 2008. Although some of these dwindling numbers may be due to tougher measures by the United States in recent years to stem illegal immigration, another notable factor is America's sluggish economy.
Mexico's Central Bank reported in January a $1 billion drop in remittances in 2008 from the previous year. It was the first drop in remittances since Banco de Mexico began monitoring the numbers 13 years ago. And early bank numbers indicate the slide is gaining momentum this year.
In spite of the economic problems that have driven some back to Mexico and made it harder for others to help their families at home, Argelia Pech worries that her son Felipe may head north again.
"The truth is: He's used to life up there," she said. "The food –- here we have beans, eggs, soup. Yes, true, we have meat, but not all the time. Up there he had everything."
If the U.S. economy springs back while economic prospects in Mexico's countless southern agrarian towns like Emiliano Zapata continue to flounder, Felipe Pech and perhaps more young men may decide to leave their families once more, seeking work and opportunity across the border.
* * *
Jesus Hernandez Arias is a Mexican agronomist who is trying to find a way to keep young men like Felipe Pech at home.
He came to Emiliano Zapata in December 2008 at the request of his friend Juan Cardona so that he might see for himself the stark contrast between the rich resources and impoverished lifestyles of the people in Campeche's rural towns.
Cardona is a representative from Desarrollo Integral de la Familia (DIF), Mexico's department of social services. He found the town through happenstance two years earlier, when he befriended Ruben Ku Poot, an Emiliano Zapata resident whose child had fallen ill and needed DIF assistance.
Hernandez said that 15,000 mangos in the area surrounding Emiliano Zapata are lost each year because the farmers don't have access to markets.
"This very fact demoralizes the people," he said. "They say, 'What am I going to do here? I need to eat.' And the only option is to emigrate to the United States, with all the dangers that come with it."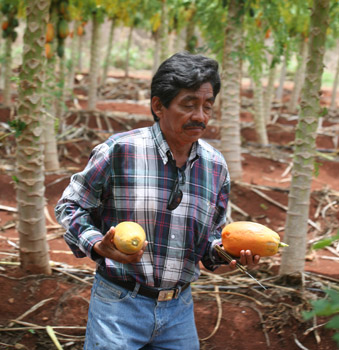 Hernandez illegally crossed the border into the United States three years earlier in hope of finding work and saving money to finance a project to organize coffee growers in Veracruz. This almost cost him his life.
Hernandez and Cardona explained that the plight of the people of Emiliano Zapata lies not just in fruit that goes unpicked; it is also in the small percentage that is sold. Lacking a readily available consumer, mango growers are forced to hold onto their fruit until a coyote comes to buy it.
Unnerved by the notion of being stuck with mountains of unsold mangos, the growers will sell a 20-kilogram (44-pound) box of mangos for 20 pesos ($1.50) to the coyotes, who turn around and sell the box far from town for 100 pesos ($7.50).
This, said Cardona, is why people like Felipe Pech leave Mexico for the United States: "He's a living example. He's from this town that has excellent production but doesn't have the technology or development to be able to find a market and move ahead. The economy stays bad. And (Pech) decides to look for other options and leaves –- goes to the United States. There are numerous others like him."
* * *
Hernandez and Cardona are working closely with the people of rural Campeche and the nonprofit AGIRabcd, a France-based organization made up of retired and semi-retired professionals who offer their services to developing countries. They want to build a juice manufacturing plant that would help the growers commercialize their products. The best location for this plant, they believe, is Emiliano Zapata.
Hernandez said construction on the factory tentatively was to begin in August or September 2009, although the final go-ahead had yet to be given. The plant itself was to be owned solely by the growers, although the construction project was to be funded by AGIRabcd. It was to cost the Europeans an estimated 5.7 euros million, or $8.1 million, with the condition that the growers pay them back — without interest — from future profits.
Getting the project under way has not been easy. Hernandez first had to sell his idea to the townspeople and gain their trust. Skepticism only grew when he brought the French volunteers to town.
"When I brought the gringos to Mexico," Hernandez said, the residents would say to me, "You're selling Mexico. Soon, the gringos will own Mexico.'"
Foreign investment from the European Union has been steadily increasing in Mexico since the July 1, 2000, signing of a free trade act. According to Mexico's Ministry of Economics, 9,000 companies with European ties are currently operating in Mexico, investing a total of $45 billion in the country's economy.
In Emiliano Zapata, growers must learn to trust not just the foreigners but the potential of the market. They must agree as a group to provide their harvested fruit to the juice manufacturer. In turn, they will want assurances of greater profits than those they could get from coyotes. Even if the coyotes start paying more.
That's what happened with the coffee growers in Veracruz, Hernandez said. "The coyotes [resellers] were paying them 12 pesos (per kilo). When we began to pay 22 pesos, they started paying 20. Then we began to pay 28 pesos; they started paying 25 to 26 pesos."
Either way, the growers begin to see the fruits of their labors.
* * *
In addition to the factory project, Hernandez has a number of ideas for the people of Emiliano Zapata.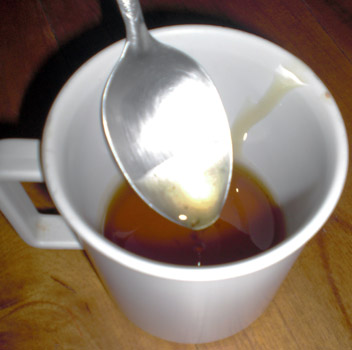 "The factory is for established growers," he said, "but since there are so many people that live in extreme poverty here, that have nothing more than a rocky plot of land where you can't cultivate many things, for them I'd like to do hydroponics," a technique for growing plants without soil.
Hernandez dreams of simple tubes for growing lettuce in water containing dissolved nutrients. He dreams of building greenhouses for the growers and educating them to grow crops that are in highest demand.
Cilantro seems promising. "We have at the moment markets that buy close to 20 tons weekly of cilantro," he said.
He would like to organize Campeche's honey producers and commercialize a wine made out of honey. Honey wine is cheaper to produce than wine made from grapes, Hernandez said, and he believes that if the local honey producers were to start such a project they would succeed in stabilizing the price of honey — just as he did with the price of coffee in Veracruz and as he and his colleagues hope to do with the price of fruit in Emiliano Zapata.
Nehemias Tuyub Uicab, one of the 1,000 honey producers in Campeche, is enthusiastic about Hernandez's ideas. He is already trying several new things himself — experimenting with diversification of crops and learning to grow tomatoes with the help of volunteers from the Mexican state of Sinaloa.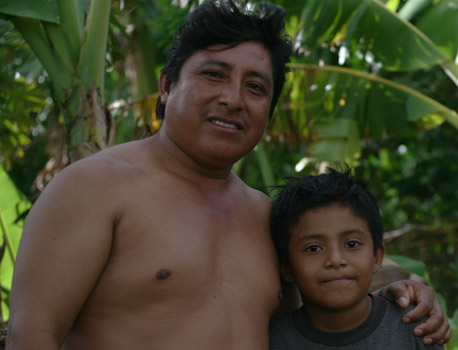 All of this is being done with the same objective in mind.
"We've got land — good land, beautiful land," said Tuyub, the father of two young children. "But people are risking their lives to migrate."
Ku Poot estimates that half of Emiliano Zapata's young men go to the United States at least once in their lives to find work. "But that's what we're trying to avoid," he said. "We have sources for work. It's not necessary to emigrate because we can do it here."
And this is precisely what Cardona, Ku Poot, the people of Emilano Zapata, the French volunteers and Hernandez hope to encourage.
"Yes, people are leaving," Hernandez said. "I'm not going to be able to help everyone. But at least, the large portion — or at the very least a good part — I'm going to try to get them to stay in Mexico with a job. And I'm going to keep producing more."
Chapter 1: Staring Down Death In the Desert | Chapter 2: Led By the Children | Chapter 3: The Fruits of Their Labors