News21 at Arizona State University is part of the Carnegie-Knight Initiative on the Future of Journalism Education, working out of the Walter Cronkite School of Journalism and Mass Communication in Phoenix. In 2010, ASU's journalists are focused on immigration issues at local, state and federal levels.
Heather

Billings
Web Designer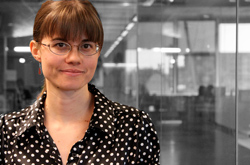 Heather Billings is a graduate student at the Walter Cronkite School of Journalism and Mass Communication at Arizona State University. She is a self-professed geek, a trait which began developing when she built her first Web site at age 13. At California State University, Fresno, she majored in mass communication and journalism with emphases in digital media and print journalism. Her dual options made her just as picky about AP style as HTML validity. While there, she spent two years as multimedia editor for The Collegian, Fresno State's student-run paper. During that time, The Collegian Online won an Associated Collegiate Press Online Pacemaker and consistently placed among top regional student publications in ACP and Society of Professional Journalists competitions. In fall 2009, she designed and developed "Streets of Dreams: People and Places of Downtown Phoenix," a Web project of the Cronkite School's 2010 graduate cohort. She has also been recognized for her writing: This spring, her investigative article about student government turnover received an award from the California College Media Association. She believes that the future of news lies with the programmer-journalist, the person who knows how to harness the Web's potential for storytelling, revenue generation, and audience engagement. To that end, her education at the Cronkite School is focused on developing her coding and Web development skills.
Allison

Carlton
News21 Fellow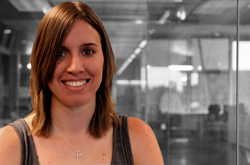 Allison Carlton graduated magnum cum laude from the Walter Cronkite School of Journalism in May 2010. Her interests are creative writing, travel journalism, and Latino and borderlands issues. Being an Arizona native and traveling in the United States and Latin America has given her an on-the-ground perspective on the immigration debate. She hopes to use narrative non-fiction and multimedia techniques to tell unique stories about immigration. In the future, she wants to become a travel writer.
Lauren

Gambino
News21 Fellow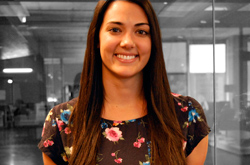 Lauren Gambino is working on a combined bachelor/ master's degree in multimedia journalism at the Walter Cronkite School of Journalism and Mass Communication at Arizona State University. Lauren has written for two of ASU's student-run media outlets, State Press Magazine and The State Press. She has also interned with College Affair, a local magazine aimed at the college audience. During her sophomore year, Lauren spent a semester studying theater, art and history in Florence, Italy. In the Fall 2010 she will begin an internship at Phoenix Magazine and defend her honors thesis on immigration issues in the U.S. borderlands region.
Lauren

Gilger
News21 Fellow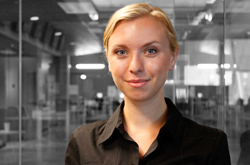 After spending four years in the Bronx and six months in Paris to earn her undergraduate degree in visual arts, French and Catholic studies at Fordham University, Lauren Gilger turned around and threw herself into the master's program at the Walter Cronkite School of Journalism and Mass Communication. She spent much of her undergraduate career as an intern at various national and international media companies, including CBSNews.com, ABCNews.com and CNN–and quickly realized there is more to journalism than paper and ink. Now, as a Carnegie-Knight News21 fellow, she is excited to travel new roads in media and to help shape the future of an industry that she thinks is far from dying.
Rosemary

Liversedge
News21 Fellow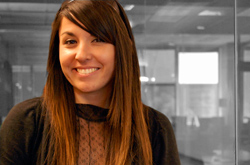 Rosemary Liversedge is an Arizona native of Mexican and English heritage. In May 2010 she completed her bachelor's degree in journalism with an emphasis in Spanish at the Walter Cronkite School of Journalism at Arizona State University. She has worked for Independent Newspapers Inc., 944 Magazine, and News21 in addition to contributions to local independent magazines. Each of these experiences allowed her to explore her interest in life, art, culture, fashion and the well being of the community. Rosemary enjoys writing and helping others tell their stories. Her ultimate goal is to give a voice to the voiceless. Growing up in a border state with a multicultural background has exposed her to various issues, especially Latino issues, that she is excited to bring light to in her time at News 21. In her free time Rosemary enjoys creating content for her locally distributed magazine Beautiful Dreamer, skateboarding, traveling and spending time with family and friends. She believes in the philosophy "Be the change you wish to see in the world."
Jason

Manning
News21 Faculty Adviser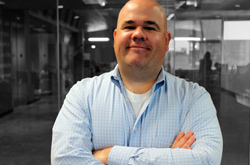 Jason Manning is a faculty adviser and managing editor for the ASU News 21 project at the Walter Cronkite School of Journalism. Jason is also the director of Student Media at Arizona State, serving as adviser and publisher to the university's student-run news outlets. Prior to coming to ASU, Jason served as politics editor at washingtonpost.com.
Grant

Martin
News21 Fellow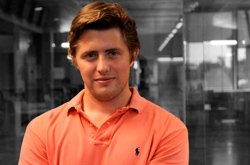 Grant Martin, a native Virginian, graduated from the College of William and Mary in 2006 with degrees in English and Elementary Education. Prior to enrolling at Arizona State, he spent two adventurous and challenging years teaching fourth grade in Richmond. He hopes to write professionally after graduating, and counts Hemingway and David Foster Wallace as his favorite authors. When not reading on his balcony, he enjoys running, live music, and Chipotle.
Cristina

Rayas
News21 Fellow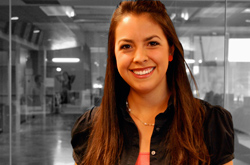 Cristina Rayas is a broadcast journalism student currently working toward a joint bachelor's and master's degrees from the Walter Cronkite School of Journalism and Mass Communication and Barrett Honors College at Arizona State University. She recently completed her urban and metropolitan studies minor from the ASU College of Public Programs. Cristina plans to use her professional and educational experiences to build a rewarding career telling memorable and impacting stories for television or the Web. In addition to her reporting for News21, Cristina has been involved with several professional news organizations: In 2008, she was selected by the Emma Bowen Foundation for a full-time internship at KCNC-TV/CBS4 in Denver, Colo. — her hometown. The multi-year internship will be completed during summer and winter breaks until graduation. The internship has offered invaluable exposure to the industry and the opportunity to work in multiple departments at the station, including sales and marketing, community affairs, and promotions. She looks forward to her next adventures at KCNC in the summer of 2011. In 2009, Cristina was invited by the National Hispana Leadership Institute (NHLI) to be a fellow in the "Latinas Learning to Lead" program in Washington, D.C. This fellowship helped reignite her passion for Latino issues and embrace her role as a Latina in the professional field. Cristina looks forward to opportunities where she can give back to her community after the education and friendships she acquired thanks to NHLI. During the academic year, Cristina works for Chatter Media Group in Scottsdale, Ariz., where she assists in social media strategy and execution for local and national clients. Cristina is particularly proud of her role as a co-director, producer, and writer for the 2009 documentary "Voices Behind The Veils." This film presents discussions with Muslim women living in Phoenix, a growing population that is often misunderstood. Talking with these women of Islam, each with a unique background, "Voices" shares personal stories of struggle and triumph highlighting experiences with feminism and identity as Americans. In her time away from the Cronkite School, Cristina can be found shopping at farmers markets or borrowing movies from the Phoenix Public Library.
Rick

Rodriguez
News21 Faculty Adviser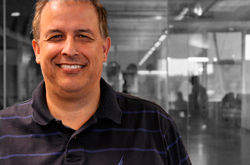 Rick Rodriguez is the former executive editor and senior vice president of The Sacramento Bee, who joined the Cronkite School as the Carnegie professor, Southwest Borderlands Initiative, in March 2008. Rodriguez's charge at ASU is to develop a specialty in in-depth reporting on Latino and borderland issues. He is also working on the News21 project in which students develop alternative ways of telling in-depth stories.
Erin Elizabeth

Reitmayer
News21 Fellow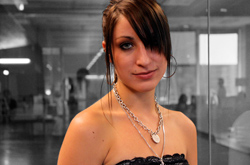 Erin Elizabeth Reitmayer graduated from Simon Fraser University in British Columbia, Canada, with a BA in English Literature. With an inquisitive nature and passion for telling stories, journalism seemed a natural career path. Reitmayer began graduate studies at Arizona State University's Walter Cronkite School of Journalism and Mass Communications in the fall of 2009, focusing her studies on digital multimedia.
Lisa

Ruhl
News21 Fellow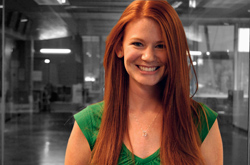 Lisa Ruhl moved to Phoenix from Massachusetts to pursue her master's degree in multimedia journalism at ASU. She studied media arts in journalism at Westfield State College in Massachusetts and earned her Bachelor of Arts in May 2009. She interned with Citadel Broadcasting in Worcester, Mass. After graduating from ASU she hopes to begin a career in international and broadcast reporting.
Rebekah

Zemansky
News21 Fellow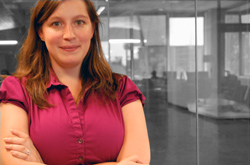 Rebekah Zemansky inherited a deep love of words, language, maps and storytelling from both sides of her family. She moved frequently for her first five years before settling down in Lawrence, Kansas. There, she survived junior high school and later completed a double major in Political Science and International Studies at the University of Kansas. Curiosity and a broadly dispersed family led to a passion for travel, while opportunities like study abroad helped broaden her horizons. In July 2009, she moved to Phoenix to obtain a Masters in Journalism and Mass Communications. She hopes to combine her interests, skills, and training for collecting multimedia and telling diverse stories.